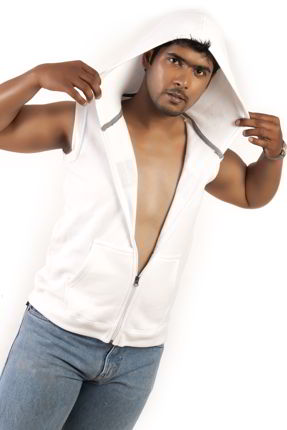 Abhishek Roy is an artist, choreographer, and dance educationist, who created Abhishek Roy's Dance Company, to offer training in Salsa, Rhumba, Bachata, Cha Cha, Pasodoble, Kizomba, Jive, Samba, Waltz, Zouk, and other Afro, Dominican and Lyrical dance forms. Born in Bilaspur, Chhattisgarh and raised in Andhra Pradesh, Abhishek now calls Bangalore his home.
Abhishek has been dancing since his childhood. He started his initial training at Shiamak Davar Institute of Performing Arts in Indo-Jazz, Rock n Roll, Salsa, Waltz, Jive, and Swing. Post this; he explored several other dance forms like Broadway style, Theatre Jazz, old school and Lyrical Hip Hop, Salsa and Bachata under the guidance of Mr. B.R.K. Prasanna Kumar and Mr. Jagdish at Swingers Dance Academy.
He has acquired advance level training from Lourd Vijay, John Anthony, Arif Tasleem, Vidya Prabhakaran, Minoti Ramachandran and the likes in Cha Cha, Foxtrot, Waltz, Merengue, Zouk, Jive, etc.
Abhishek has been an actively associated with many national and international dance forums like the India International Salsa, from 2008 to 2011, Just Dance Season 1, Dance India Dance Season 3, India Hip Hop Dance Festival, etc.
Abhishek Roy has embarked upon a journey five years ago with a vision to change people's perception towards Latin ballroom dance forms and to set high standards for professionalism and performing arts. He is on a mission to spread the joy of dancing and to make people believe that everybody can dance. "I will dance, as long as I have feet", says Abhishek Roy.
Abhishek has nurtured Abhishek Roy's Dance Company to become one of the most sought after dance schools in Bangalore, Mumbai and Hyderabad. He is known for his grace, fluidity and precision on the dance floor, the stage and the classroom.  His creative interpretation of the music, ability to effortlessly lead, spin with speed and accuracy and to be able to break all of this technique and exactitude has made him extremely popular in the local salsa scene.
Abhishek started teaching at Zenkara Dance Studio, Bangalore, followed by Madmax Academy of Dance, Mumbai and Bangalore, Roy's Dumbbells and Dreams, Hyderabad, Gold's Gym, Bangalore, Ben's Body Studio, Bangalore, Magnum Fitness Studio, Bangalore to name a few.
He constantly updates his competencies by acquiring international training from renowned dancers like Knzo Mendy (Paris), Sharon Pakair & Tzee (Australia & Singapore), Eider and Luisa (Columbia), Joseph Ennin (Hongkong), Loui Carlos (Spain), Juan Matos & Candy Melena (Italy), Jamie Jesus & Elizabeth (Australia), and the likes.
Abhishek has recently worked with Bollywood famed director, David Dhawan and his son Varun Dhawan and Ileana D'Cruz